Working late each night in the family kitchen the company's founder, Ron Severtson, not only solved the technical problem of uniformly coating a domed surface, he created a product that had the reflective properties the Air Force needed for its simulator program to be successful.
Demand for Severtson's product soon had the company working for large corporations and military organizations in over 40 countries. In an effort to address the safety concerns of the day's solvent based optical coatings and remain competitive in the world market, Ron continued to refine his formulas. His work led to the introduction of Severtson Corporation's 3D optical coatings in 1988. By 1989 Severtson Corporation's optical coatings were safer, more environmentally friendly water-based formulas.
In the early 1990's a contract with IMAX Corporation brought Severtson Corporation into the cinema screen industry. To meet the challenge of the larger screens, a robotic application system was designed that could be used to coat screens on site. In 1998 Severtson Corporation applied its optical coatings to the world's largest cinema screen (103' x 129') in Sydney, Australia.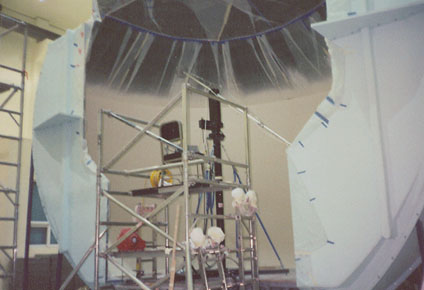 In 2003 Severtson Corporation launched its own line of Home Theater/Pro Av screens with a basic fixed-frame screen and later expanded the line to include a screen for every need. By using the same optical coatings used on their large cinema screens, the Home Theater/Pro AV line delivers outstanding performance in both 2D and 3D formats.
Beginning in 2009 Severtson Corporation became a full-service cinema screen manufacturer. Its low rejection rate coupled with the high quality of all its products has made Severtson Corporation the industry standard for quality and customer service worldwide.
The combined experience of building small home theater screens and large cinema screens has given Severtson Corporation the expertise to meet the needs of the Pro AV market for both professional indoor applications as well as large outdoor venues.
Celebrating its 30th anniversary in 2016, Severtson Corporation continues to be a global leader in innovation and quality. The addition of a new facility with its state-of-the art robotic application system not only increases the company's production capability, it also increases the number of screen sizes available to their clients.
From its unlikely origins in the family kitchen to today's three modern production facilities, Severtson Corporation has remained committed to the principles of innovation and uncompromising quality that have made them who they are today.
Source:http://severtsonscreens.com/